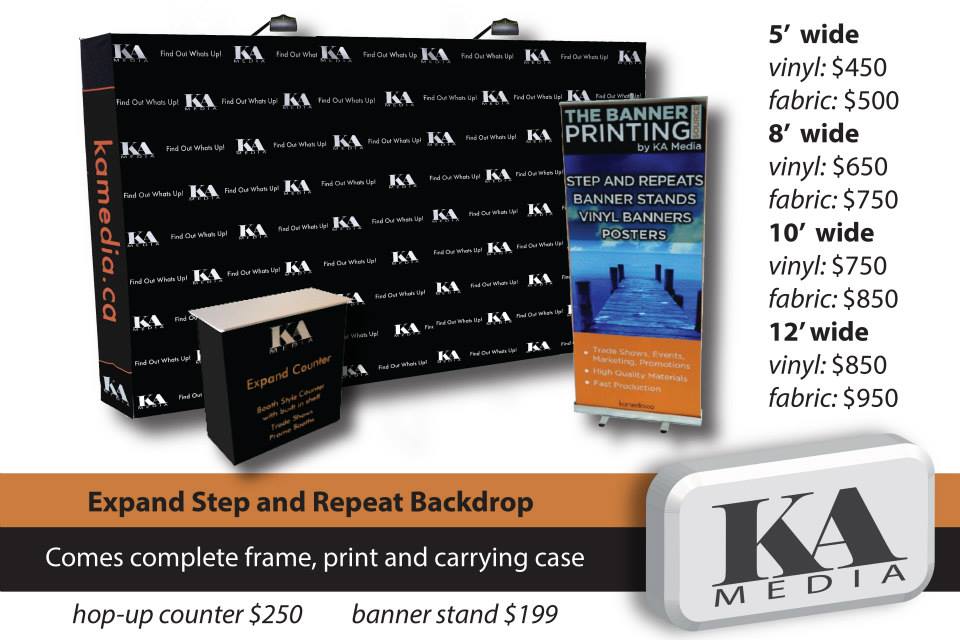 The Frame:
KA Media is the exclusive Canadian provider of the Expand Stand and Repeat frame. Its accordion like construction means that you won't have the hassle of assembly. Simply pull and the hop up frame will quite literally pop open. Snap the safety clips together, unroll your banner or attach your fabric print and you are done. Check out this video of us setting one up.

Vinyl Print:

(good)



When it comes to step and repeat's matte vinyl is the industry standard. Vinyl is ideal for design applications that have low ink coverage and venues with good ambient lighting. Vinyl provides a more economical alternative and yields a  powerful visual effect.  

Eco-Fabric Print:

(better)



Our mid-range fabric is ideal for someone looking for the unmatched visual appeal of glare and wave free tension fabric but is on a budget. The main difference between the fabric and tension fabric is that the tension fabric print can be stored on the frame while the eco-fabric should be removed in order to avoid wrinkles and print damage. Like tension fabric, eco-fabric will showcase your brand no matter the angle, no matter the lighting, and no matter the photographer.
Tension Fabric Print:
(best)
Tension fabric is the premium choice for step and repeats offering an unmatched visual effect. The fabric is both glare free and wave free and can be collapsed, frame and print, into a single small carrying case. This makes it easy to store, easy to set-up and awesome to use.  No matter the angle, no matter the lighting, no matter the photographer you can rest assured your red carpet shots will come out with your logo's clearly and accurately displayed on a glare free backdrop! Check out these shots of our vinyl step and repeat in action
End Caps:
If you want to hide the sides of the frame you can have us add end caps to your print. End caps hide the hardware and are a great place promote your brand.
The Details:
This price includes the frame, a custom print. Prices do not include tax, design or delivery. Design is $25.00 for basic graphic layout, delivery in the GTA is $30.00- (for frame and print)  If you are providing logo's we prefer them in an editable PDF with text in outlines (we can also accept EPS or AI formats if you cannot provide preferred format). If the the frame is rented you will be responsible for returning the frame within a week of your event.
Our timeline is 7 days production from final artwork proof with possible rush available for additional cost, this depends on workload and timeline. Payment is required before printing begins. For your convenience we accept credit card over the phone, e-mail money transfers, or payment via Paypal.