YOU'RE HAVING AN EVENT AND WANT TO
HAVE EVEN MORE IMPACT ON YOUR AUDIENCE.
BRANDED EVENT PROPS ADD TO YOUR
EVENT IN A VARIETY OF WAYS: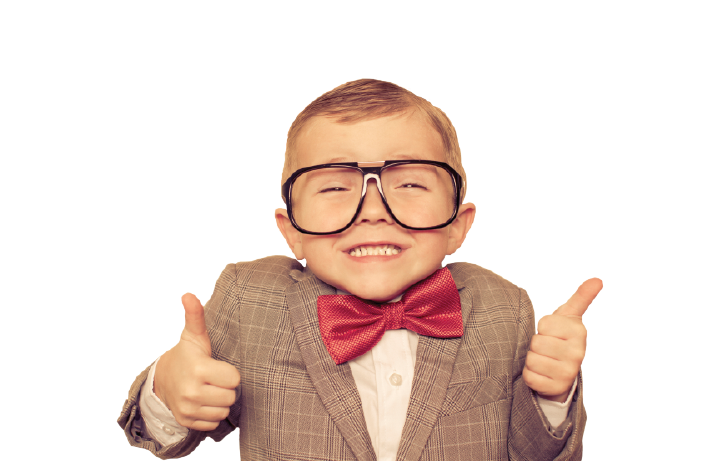 Guide your audience where to go.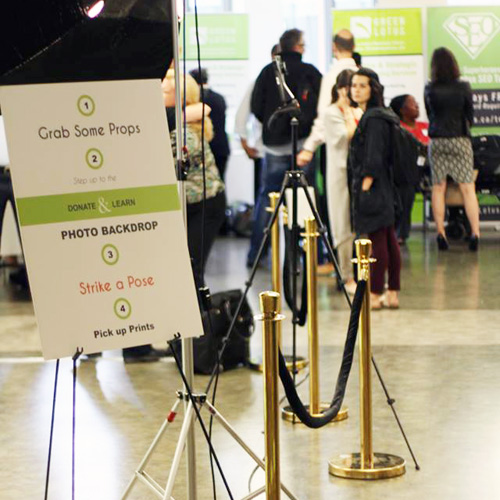 Sign on easel for Donate & Learn.
BY GUIDING YOUR AUDIENCE WHERE TO GO YOU
CURATE A BETTER EXPERIENCE
FOR YOUR AUDIENCE AND CREATE
MORE BRAND PRESENCE
.
THE KEY IS IT HAS TO BE DONE IN A WAY THAT WORKS WITH THE EVENT FLOW ALREADY AND IS CREATED IN A WAY THAT PROPERLY REPRESENTS THE BRAND OTHERWISE IS LOOKS CHEAP AND CHEESY…THAT'S NOT COOL.
Create shareable moments.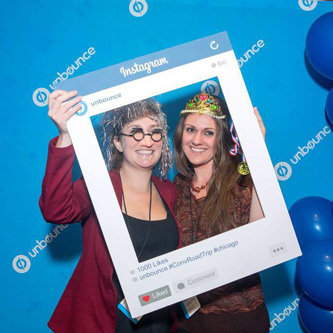 Instagram frame for Unbounce.
THE GOAL OF YOUR EVENT IS TO
BE SHARED AND REMEMBERED
. PHOTOS ARE THE WAY TO DO THIS.
WHEN CREATING A RED CARPET BACKDROP A GOOD WAY TO PROMOTE MORE BRAND INTERACTION AND SOCIAL SHARES IS THROUGH PHOTO PROPS USED ON THE STEP AND REPEAT.
THE PROPS CAN BE FUN CUT OUTS OF LOGO'S, PICTURE FRAMES, THE INSTAGRAM BOX, HASHTAGS, CUT OUTS OF ACTORS AND ANIMALS OR MANY OTHER THINGS.
Not sure what you need?
How about a

no-charge

 conversation with our experts to discuss options?
Raise your brand value. Look more professional.
COUNTERS AND TABLE THROWS: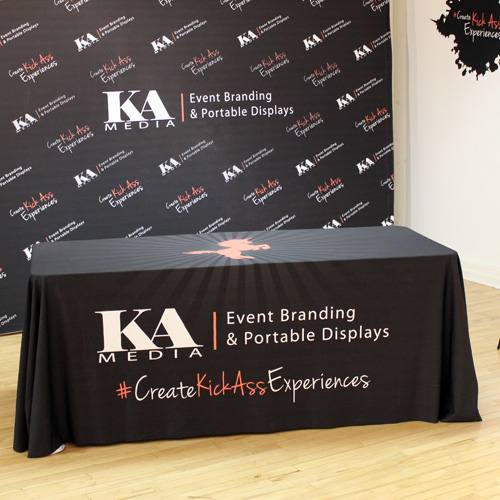 Custom fabric table throw.
BRANDED COUNTERS AND TABLE THROWS SERVE A VARIETY OF USES FROM REGISTRATION TABLES, TICKET PICK UP, BARS, SILENT AUCTION TABLES OR EVEN IN PHOTOS OR OTHER BOOTHS.
NOT ONLY DOES IT CREATE MORE BRAND EXPOSURE IT RAISES THE VALUE OF THE BRAND.
VALUE IS THE WAY THE BRAND IS PERCEIVED, USE THESE PRODUCTS TO RAISE YOUR BRAND'S PROFILE AT YOUR EVENT.
Inform & share your event's message.
TOWERS AND BANNER STANDS: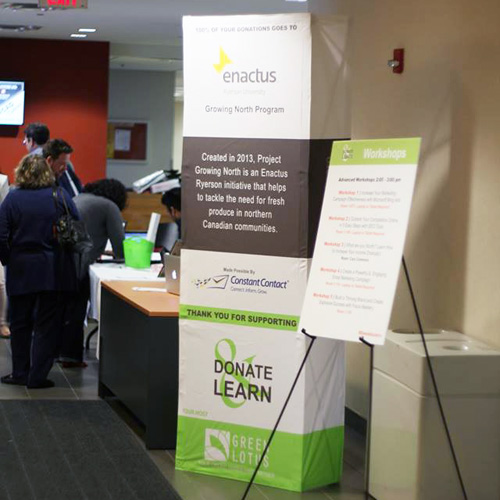 Info tower and sign on easel.
YOU'LL WANT TO
DISPLAY INFORMATION
TO YOUR GUESTS AND
SHARE THE MESSAGE 
WHERE YOU CAN.
WRAPPED TOWERS OR BANNER STANDS ARE THE CLASSIC WAY TO SHARE AND PROMOTE A MESSAGE AND CREATE A BRANDED EXPERIENCE AT AN EVENT.
REMEMBER YOUR GOAL IS THAT THEY WALK AWAY FROM YOUR EVENT WITH THE BRAND AND/OR THE MESSAGE IN THEIR MEMORY, THIS TAKES MULTIPLE INTERACTIONS TO ACHIEVE.
Not sure what you need?
How about a

no-charge

 conversation with our experts to discuss options?
Shout it from the rooftops.
CUSTOM PRINTED EVENT FLAGS: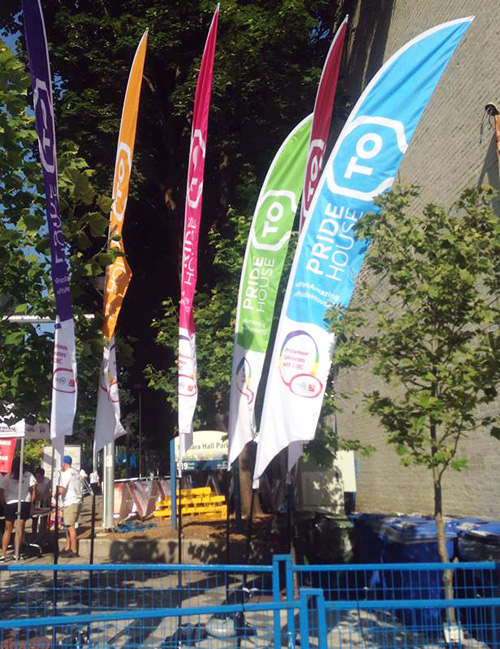 Printed flags for 519 Church
FLAGS ARE ONE OF THE
MOST VERSATILE BRANDED EVENT PROPS
.
YOU CAN USE THEM INDOOR OR OUTDOOR, IN A VARIETY OF WEATHER AND FOR A VARIETY OF USES FROM PROMOTING THE EVENT TO TELLING PEOPLE WHERE TO PARK.
USE BRANDED PROPS AND
BE REMEMBERED FOR THE RIGHT REASONS