Phone:  1(877)880-0326  Email: sales@kamedia.ca
✓

 Connect with a Print Expert
Get our product guide, pricing and a FREE event branding checklist!
Toronto's

 
Choice for Event Printing, Displays & Rentals

event backdrops, printing and displays
stanchions, ropes, red carpets and more
onsite setup & teardown
next & same day delivery
Kick Ass Media has serviced the Toronto area (including the Greater Toronto Area (GTA)) for close to a decade. We are Toronto`s choice for red carpet event displays, step and repeats and print marketing. Our production space is located a 1 1/2 hour drive from downtown in Bloomfield, Prince Edward County
Pick Up /Drop Off Location: 
412 Roncesvalles Avenue, Toronto, Ontario M6R 2N2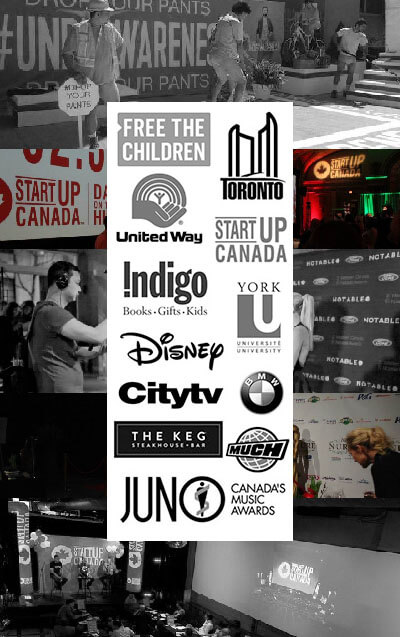 We start every job with a full evaluation of the client's needs and this is followed up by an analysis of the best available branding and display solutions.
Andrea Critch
Event branding is both the oldest and newest thing on the global corner. We are the one stop shop for delivering next level displays that elevate your event.
Our staff thinks differently about your project.
Our customers are considered first when we make any decision about materials, products and direction. Your voice matters and that is something I like.
Jody Bain
You'll love it – Guaranteed!
So stop the stress – depend on our team's event branding experts to cover your event printing, display and rental needs. If you are not 100% satisfied – return the product for your money back!
First – we guarantee that we will sell you the right product and material for your particular application based on your event lighting and the particulars of use.
Second – we guarantee that we will get your colours right either by matching existing brand collateral or by using your preferred spot colour matching system (ie. Pantone Colour Match)
Third – we guarantee that we will deliver on any timeline or project we commit to – no excuses – we will either find a way or make a way.
The bottom line – we are not here to deliver on a single project, we are here to make you a raving fan. We stand fully behind everything we sell and look forward to exceeding your standards!

Don't Repeat the Advertising Budget Blunders Your Business has Made in the Past.
Step up Your Game with Custom Printing that Will Get Your Toronto Business or Organization Noticed. 
Every business or organization that wants to attract attention, earn more customers and increase their sales has got to market themselves. But what method best ensures your Toronto business stands out from the rest? While many of the traditional forms of advertising have all but died, printing is still one of the most effective forms of marketing, whether your business is located in the heart of Toronto or a quiet suburb beside.
Printing your business' brand, logos and message on cards, backdrops, signs and other displays is still one of the most cost-effective, proven forms of advertising available. Of course, you've got to know which design and printing business can and will satisfy your marketing and promotional needs with high-quality cards, signs, backdrops and the like for the lowest cost and in the shortest time possible.
If your business is located in or around Toronto, just ask any business owner who has invested their money in print materials created by KA Media and they'll tell you it was a smart business decision.
Need a Banner? Interested in Printing Signs or Displays for a Red Carpet Event? For Everything from Backdrops to Business Cards Printing, Toronto Business Owners Count on KA Media
KA Media is your one-stop printing shop, offering a full range of design services and producing the custom marketing materials and tools that will go to work for any Toronto company or organization. While full colour displays, a banner or backdrops might be just what one Toronto business needs to best market themselves at tradeshows and conferences, a fundraising organization might benefit from a red carpet worthy step and repeat—Toronto galas everywhere are using them as photo backdrops! And every business in any industry can benefit from having high-quality print materials like cards and brochures that proudly promote their brand.
Design & Printing Experts Who Know Exactly What Your Business Needs
Even when they know they need backdrops, Toronto business owners and event organizers can benefit from speaking with our team of experts. Our years of experience can help bring what it is that you're envisioning to life on a banner, indoor and outdoor signs, backdrops or cards, or you can trust our team completely with your printing project and have us come up with the design and layout that our experience tells us will work best for your step and repeat or backdrops. Toronto businesses, no matter their promotional needs, needn't look further than KA Media.
Call us now at (877) 860-3684 to learn more about our full range of printing services, including backdrops, cards, step and repeat banners, trade show displays, banner stands, signs and more.