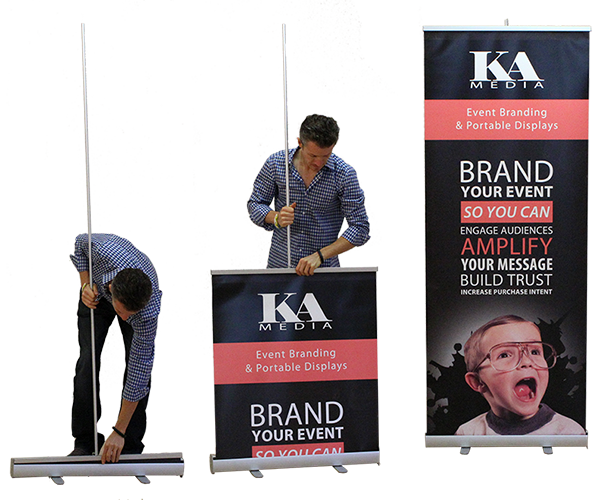 Retractable Banner Stand
Graphic Size: 31.5″ wide by 79″ tall
Package Includes: Frame, 4/4 full coverage print and carrying case
Frame Material: Cast Aluminum
Print Material: Curl Free Film with back block out
Setup time: Under a minute
Portability: Small carrying case (32″ long by 5″ wide)
Indoor/ Outdoor Use: Not suited for wind or rain
Retractable banner stands are a classic marketing tools. Easy to setup and tear down retractable banner stands come in a variety of widths (standard, wide and double wide), heights (standard, tall & adjustable) and forms. Having worked with dozens of varieties I know getting the material and fishing right makes all the difference in terms of effectiveness and longevity. Jordon White
X Banner Stand
Graphic Size: 24″ wide by 60″ tall
Package Includes: Frame, 4/4 full coverage print and carrying case
Frame Material: High density plastic tubing
Print Material: Matte vinyl print w. blockout
Setup time: Under 3 minutes
Portability: Small soft carrying case (30″ long by 3″ wide)
Indoor/ Outdoor Use: Not suited for wind but can handle rain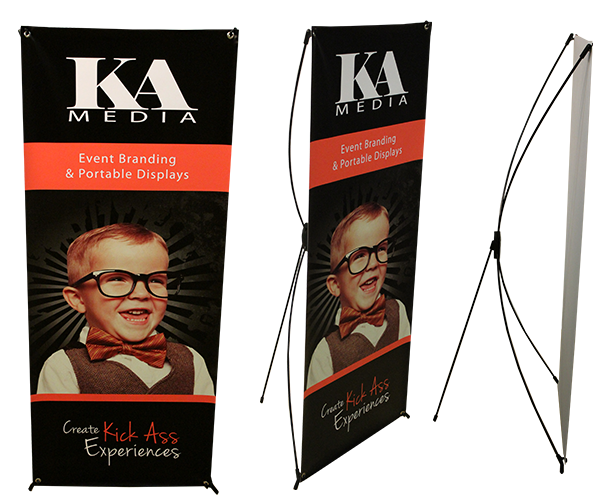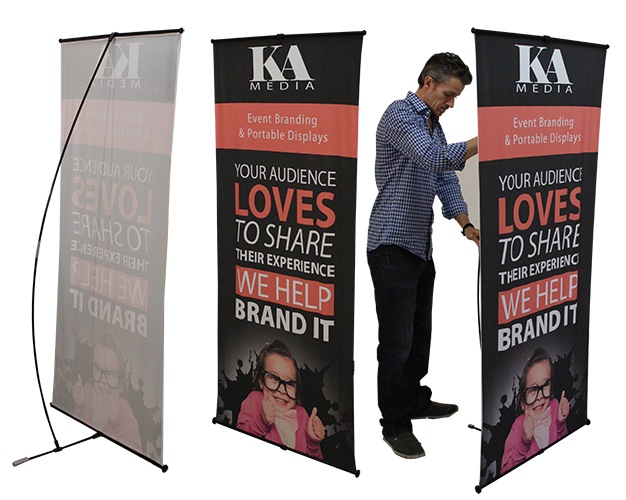 L Banner Stand
Graphic Size: 32″ wide by 70″ tall
Package Includes: Frame, 4/4 full coverage print and carrying case
Frame Material: High density plastic tubing
Print Material: Matte vinyl print w. blockout
Setup time: Under 3 minutes
Portability: Small soft carrying case (30″ long by 3″ wide)
Indoor/ Outdoor Use: Not suited for heavy wind but can handle rain. Unlike X-Banner stand frame can easily be weighted down if required.
Like their retractable counter parts X & L banner stands come in countless forms in addition to the units listed above. These units typically come with vinyl prints but in some cases can handle fabric. Andrea Critch
Outdoor Banner Stand
Graphic Size: 40″ wide by 70″ tall
Package Includes: Frame, 4/4 full coverage print
Frame Material: High density plastic tubing / Weighted water base
Print Material: Matte vinyl print w. blockout
Setup time: Under 3 minutes
Portability: Comes complete in a box (30″ square box which is  10″ tall)
Indoor/ Outdoor Use: Designed for outdoor application to handle rain, snow and moderate wind.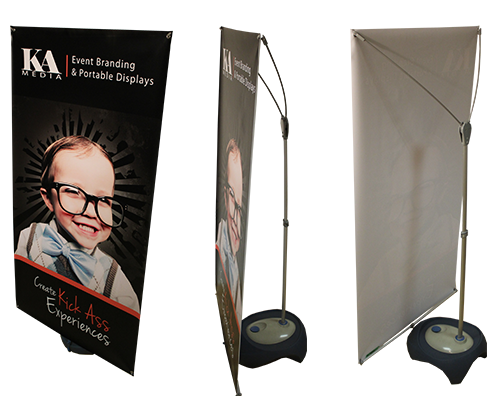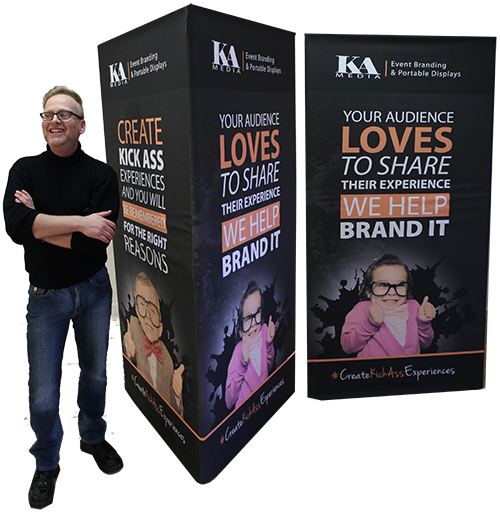 Quick Click Tower
Graphic Size:  3 sides | 40″ wide by 86″ tall
Package Includes: Frame, 4/4 full coverage print and carrying case
Frame Material: Aluminum Tubing | Quick Click
Print Material: Stretch Fabric | Wave Free, Glare Free, Wrinkle Free
Setup time: Under 5 minutes
Portability:  Soft carrying case (40″ long by 8″ wide)
Display Board
Graphic Size: 32″ wide by 48″ tall | 24″ wide by 32″ tall
Package Includes: Easal, 4/4 full coverage single or double sided print
Frame Material: High Density Plastic
Print Material: Foamcore or Coroplast
Setup time: Under 3 minutes
Portability:  Foamcore can bend easily if shipped unprotected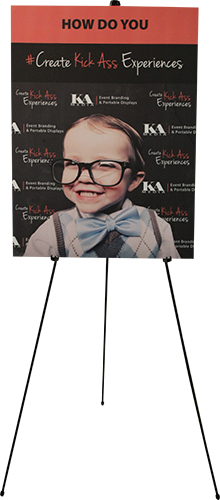 Portable & Easy to assemble banner stands!
Banner stands are a go to for any business or event. They can not only help you brand your business but also market and advertise what you are doing . With so many different styles and sizes these stands are a must and will last a lifetime
Satisfaction Guaranteed | 24 hr Production time | Pantone Color Matched 
Trade Show Banner Stands from KA Media Are Efficient & Effective Solutions for Any Show, Anytime
Whether your company is about to display at its first trade show or its 100th show, trade show banner stands designed and printed by KA Media will create the instant exhibit your business needs to attract attention from show attendees.

A Banner that Stands the Test of Time is a Smart Investment
At KA Media, we make all of our trade show banner stands from only the best quality materials and parts so that an investment in a KA Media banner is a purchase you never regret. This means that everything from the material to the stands we use have been tested for their durability and are ideal for repeated use. Instead of having to trade your old banner in at the end of every show season for a new one, the banners and stands available from KA Media can be used as long as the text and images are still relevant to your brand.
What to Expect When You Order a KA Media Banner
The standard size for any of the stands and banners we sell is 31.5" X 79," and every banner is printed on a premium block out film, ensuring your message always stands out, no matter the glare from indoor lighting, camera flashes or sunlight. We can work together, trade ideas back and forth, until we arrive at the banner design with which you're completely satisfied. When it comes to designing your banner, you won't have to trade or sacrifice the colourful palette you've used in your branding, as every banner is printed in full colour with high-quality printers—show off your brand in the most attractive way possible!
If it's time to order your company's first banner or you need to trade in a banner that looks like it's been to one show too many, call us at 1(877)860-3684. Our stands and custom banners are used by businesses throughout North America. You can discover your display solution with KA Media.