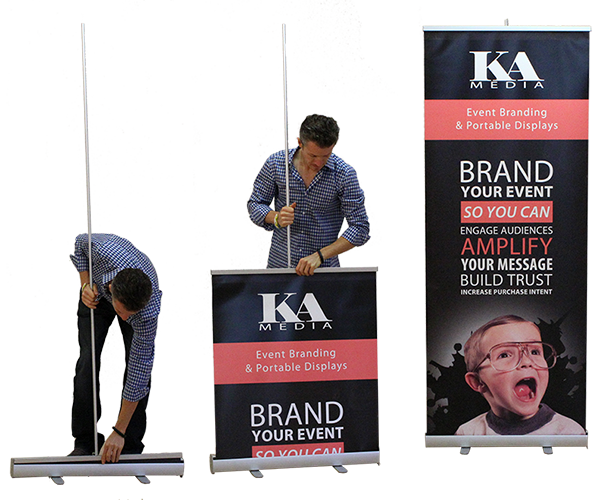 Retractable Banner Stand
Comes complete with frame, print and carrying case.
Print Size: 31.5in by 79in ( 2.6 feet wide by 6.6 feet tall)
With a lightweight, compact and durable frame our retractable banner stand offers an attractive palate to showcase products and critical product information. Designed to showcase with brilliance photo quality images, diagrams and technical drawings our retractable seamless print panels serve to showcase the best of your brand.
Full resolution prints from a photo-grade printer on a photo-grade print material
Block out backing to ensure no shadows or light penetrates your print
Sold as a single unit with less than a minute set-up time
No assembly required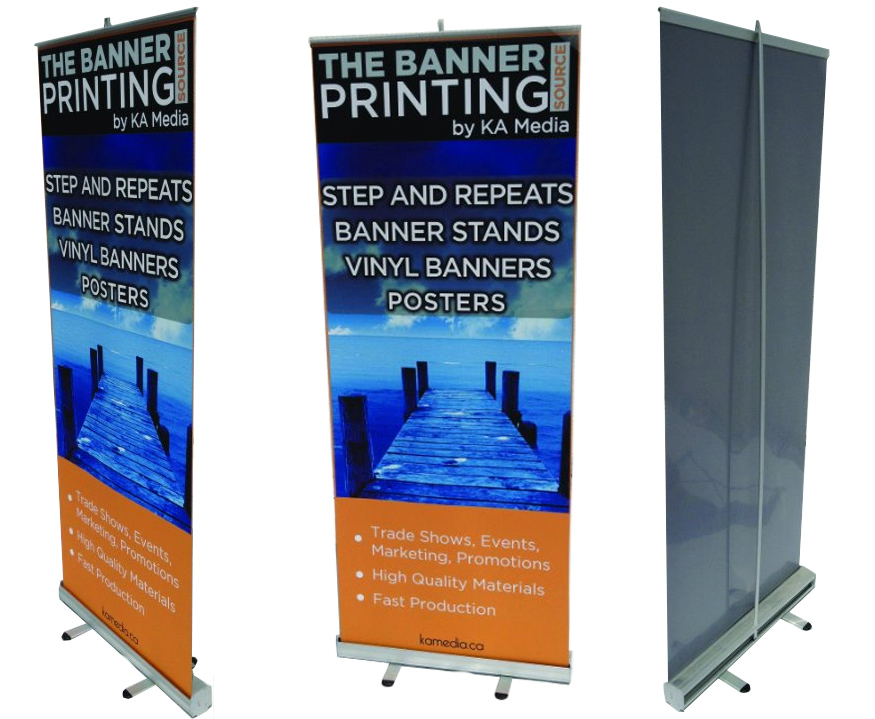 Retractable Banner Stands are Popular Promotional Tools—for Good Reasons   The most popular banner in our banner stands line-up, you would be hard pressed to attend a Toronto-area tradeshow, conference or other event without seeing retractable banner stands—everywhere! There are many reasons these promotional stands or displays are so popular, and they're the banner of choice not only amongst our Toronto clientele, but clients throughout Canada and beyond. What You Can Expect from Retractable Banner Stands The stands used for this type of banner are exactly what the name implies—retractable. The stands themselves are a major selling point for this type of banner because they're so easy to put up and take down. By making it retractable, you take what would have been a banner not easily transported or set-up, and made it into an efficient marketing tool. If your Toronto business or event has been looking for a fully functional banner to display your marketing message, retractable banner stands might be your solution.   A Banner that's Retractable Has Many Uses People can and do order a banner or banners that are retractable for a whole host of different purposes. While a Toronto boutique might purchase retractable stands so that they can promote their in-store special offers during the day and easily retract them and store them in the evening, another will order a banner that's retractable for a quick and easy yet totally functional sponsorship photo backdrop at a gala. While what goes on the banner is up to you, the quality of the stands used will ensure your banner is retractable and functioning properly for years to come—satisfaction guaranteed! What's more is that all of our retractable banner stands are printed on the best-quality materials for your needs. So, if glare from camera flashes or the sun are likely to be an issue, the anti-curl, matte finish, block-out vinyl we use guarantees your message is always clear. Whatever your promotional need, retractable stands with eye-catching banners are a proven solution. Call us at 1-877-860-3684 to ask a question or to place your order.