Backdrop Material Options
Different materials give you different results. Choose wisely.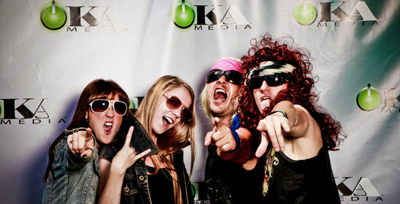 Material 1 | Matte Vinyl Step and Repeat Backdrop
Okay.
Prints from $175 USD
Vinyl is ideally suited to design applications that have low ink coverage and venues with good ambient lighting. When done right vinyl provides a more economical alternative to fabric.
The disadvantage is that the the print shows glare if any flash is used, it bulky to transport (comes in an 8' tube), is not very good for the environment (its core component is essentially plastic) and it has no stretch so often appears wavy in images.
Expand Frames from $279 USD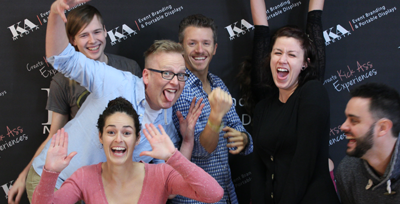 Material 2 | Dye Sub Fabric Step and Repeat Backdrop
Kick Ass.
Prints from $349 USD
Our premium fabric backdrops are guaranteed glare free. No matter the angle, no matter the lighting, no matter the photographer – you can rest assured your backdrop will showcase the best of your brand.
The added benefits of choosing fabric are that the print can be stored on the frame between uses (keeps everything together), our dye sublimation print technology makes it dry-cleanable and the slight stretch helps smooth out wrinkles to keep it looking flat.
Expand Frames from $279 USD
Step & Repeat Backdrops
Colour Matched & On Time Every Time
Stop hoping and start expecting your event branding elements to arrive on time.
Guaranteed Production & Shipping Timelines
Pantone & Swatch Matching
Unbeatable Service
Or Call Us Toll Free

877.596.0669
Why choose a fabric print rather than vinyl?
To Entirely Eliminate Glare
Glare caused by camera flashes is the most common problem with red carpet backdrops. Ensure that, if you are using vinyl, you have enough ambient lighting or opt for fabric, which won't show glare. Some suppliers claim varieties of vinyl are "glare free" or "matte" but these products still reflect camera flashes. It is impossible to flash-photograph vinyl step and repeats without creating glare. Still, if you have good ambient lighting and your photographers do not need a flash this will likely not be a problem.
Do it right the first time.

It will save you.
Call today and lets discuss your event options.
Toll Free: 877.596.0669