Premium Branded Tents and Flags For Outdoor Marketing & Events
Stand Out And Be Remembered:
Don't Risk

getting the wrong color…With Our Unique Unmatched Color-Guarantee – details below
Premium Canopy Design To Last Multiple Seasons
Unmatched Service & Support Team So You're Taken Care Of
Many Sizes and Options – Find The Perfect Fit For Your Brand And Your Budget
Economy or Heavy Duty

Full Colour Branded Tents

Custom Tents:
Custom tents have become really popular in both indoor and outdoor events. You've got many size options for customized tents.  You will have to decide what your budget is and how much space you at your outdoor or indoor event. 
The most common size for tents is a 10′ x 10′ tent.  If you are on a budget, but need to be covered you can consider an 8′ x 8′ but we also offer 10′ x 15′ and 10′ x 20′.  
When considering a custom tent or canopy, make sure you confirm that you have the space to fit it.   Questions to ask your indoor or outdoor venue are: how high are the ceilings? How much space am I getting?   You will also want to consider your future events as well.  If you plan on using this tent many times, think about the spaces that you will possibly get in the future.  
Our custom portable tents are made from steel or aluminum (depending on what you decide to go with) and they are easy to set up and take down. Your artwork will be printed using dye sublimation process onto 600D canvas material. The canopy stays on the frame and folds up making it a really easy set-up.
• Tent Sizes: 5′ x 5′, 8′ x 8′, 10′ x 10′, 10′ x 15′, 10′ x 20′, 20′ x 8′, 20′ x 10′ (Bigger sizes available)
 
• Comes with carrying case • Water, UV & Fire Retardant • Aluminum or Steel frames available • One-Piece Quick Click Instant Set Up Frame • Telescoping Legs Lock Into Place Using a Patented Toggle System • Elevated Center Design for Increased Headroom • Double-Braced Roof Trusses • Reinforced Steel Outer Legs • Pull-Pin Quick Release Lock System • Bolt-on Top to Protects Against Wear and Tear • Reinforced stitching to Protect Against Wear and Tear
Turnaround Time: 2 weeks Shipping: Ships from Ontario, Canada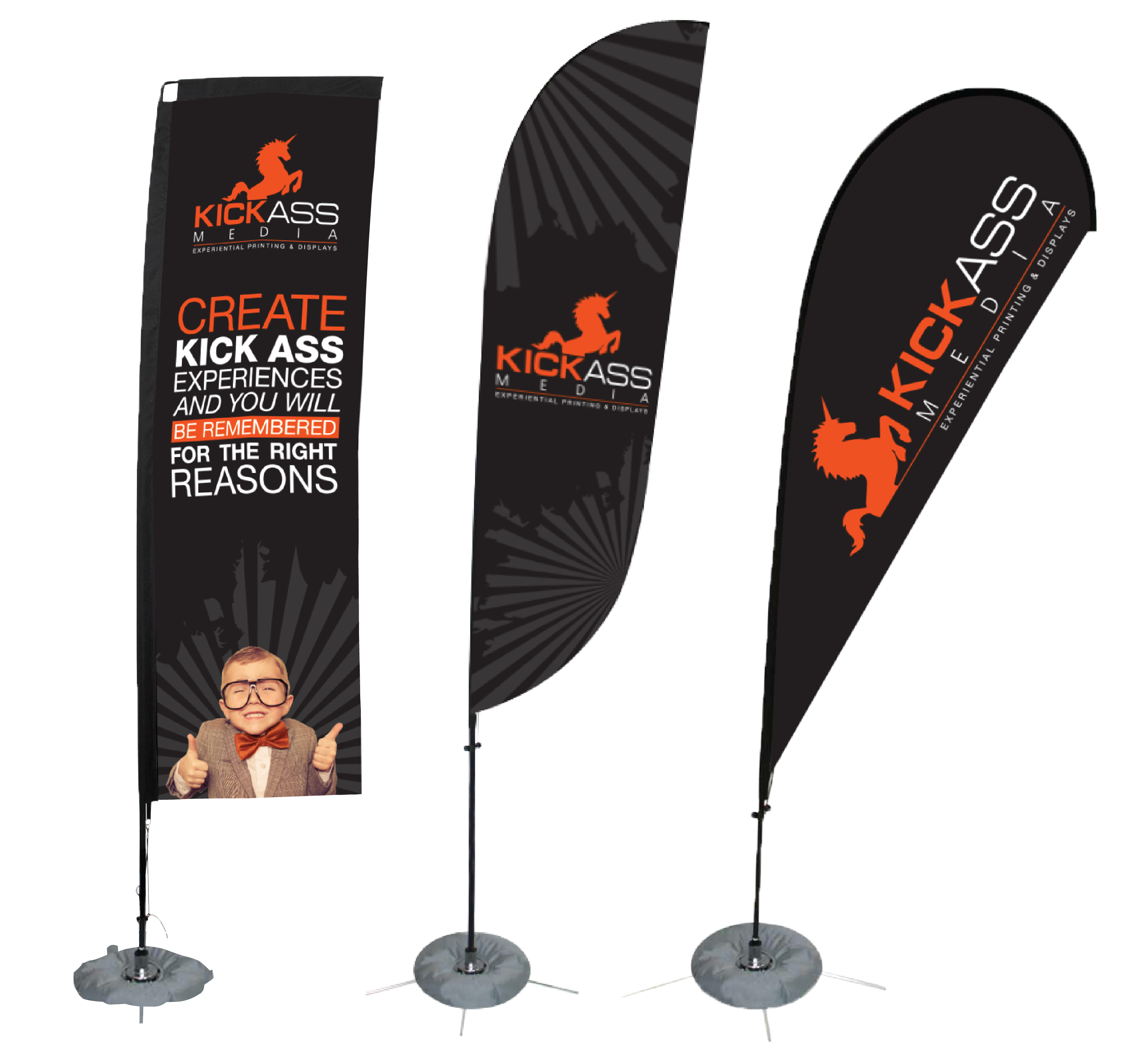 Flags:
Flags can help you be seen above the crowd, but they also incorporate movement into your set up, which can help catch peoples eye. Whether you're planning a brand activation, trade show, festival, or sporting event, flags shouldn't be overlooked as a potential add-on. 
How tall do you want your brand to stand?  Flags come in 8′, 10′, 12′, and even 16′ tall.  
You will want to confirm with the indoor or outdoor venue if you are allowed to use the flags (we don't see why not!), and if it's indoor, how tall the ceilings are.   
TIP:  It's all about the height – depending on the type of event you are attending, you might want to go tall so everyone can see your flag and recognize your brand from anywhere at the event. 
Our custom flags are made from aluminum alloy and fibreglass. They are easy to set up and take down. We use dye sublimation printing on a 600D polyester material which is water resistant and UV coated, which allows your artwork to be vivid and will not fade.
• Tent Sizes: 8′, 10, 12′, 16′ 
• Comes with carrying case • Water resistant and UV coated • Aluminum alloy and fibreglass • Single or double sided • Easy to set up
Turnaround Time: 2 weeks Shipping: Ships from Ontario, Canada
Unique Unmatched Colour Guarantee:
WARNING: Most printing companies say you are responsible after you approve your digital proof…
But how do you know it will look right once printed?!
-We guarantee your product will arrive with the right colour or we will reprint it at no cost!
In order to guarantee colour we either need pantone or we print a swatch and send for your approval. Super easy.
DON'T RISK IT NOT LOOKING RIGHT! Choose KA Media and Guarantee It Today
Materials:
For custom printed tents, there is only one option.
The outdoor tents are fully customizable and printed on 600D polyester (canvas) that is water, UV & fire retardant.   The same material is used for the half walls and full walls.  The reason there is only one option for tents is because we have picked the most durable material to withstand weather in the outdoors. 
TIP:  If you are using the custom printed tent outdoors and don't want your products to get wet, we recommend looking into the full and half walls available to protect from rain and wind coming from all the directions!
The same goes for custom printed flags.  A dye sublimation process is used (which keeps the colour vibrant) and flags are printed on a 600D polyester material which is water resistant and UV Coated.  The reason this specific material is used to give it a long life in outdoor conditions.   
Pricing:
How do you choose the right product for your outdoor event?
Brands that work with us come back year after year because we know what it takes to execute the perfect worry-free event. We provide step and repeats and displays for movie premieres across North America working with some of the biggest brands and events.
It's our mission to help you find the best setup for your outdoor event.  
Other products frequently bought for outdoor marketing: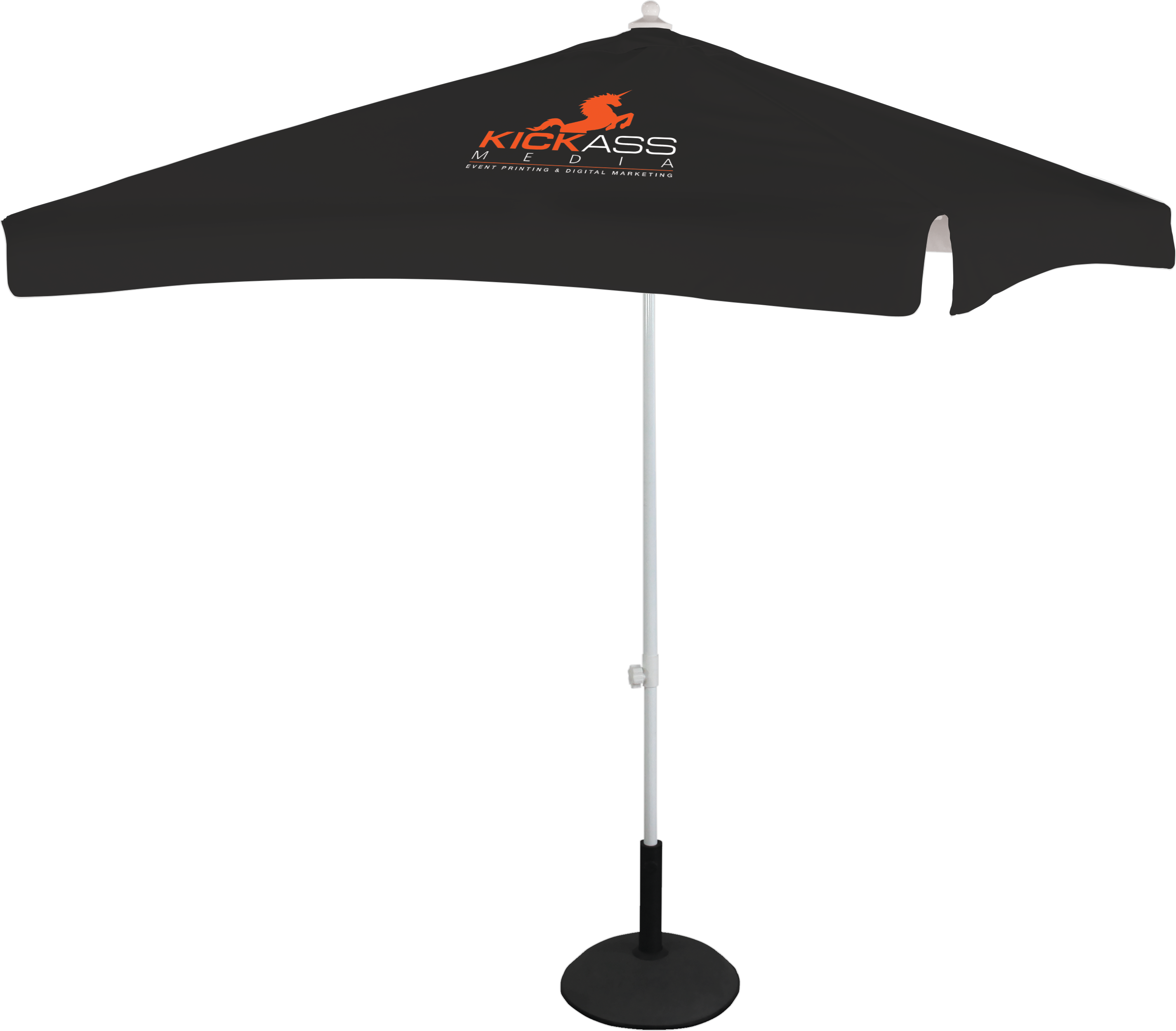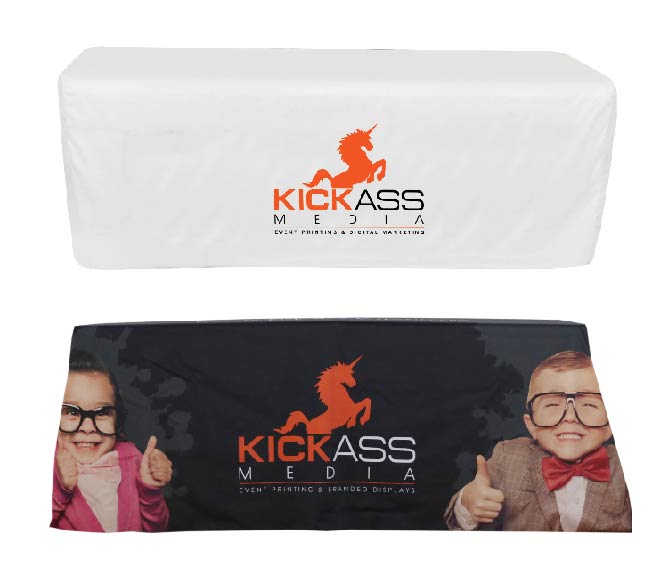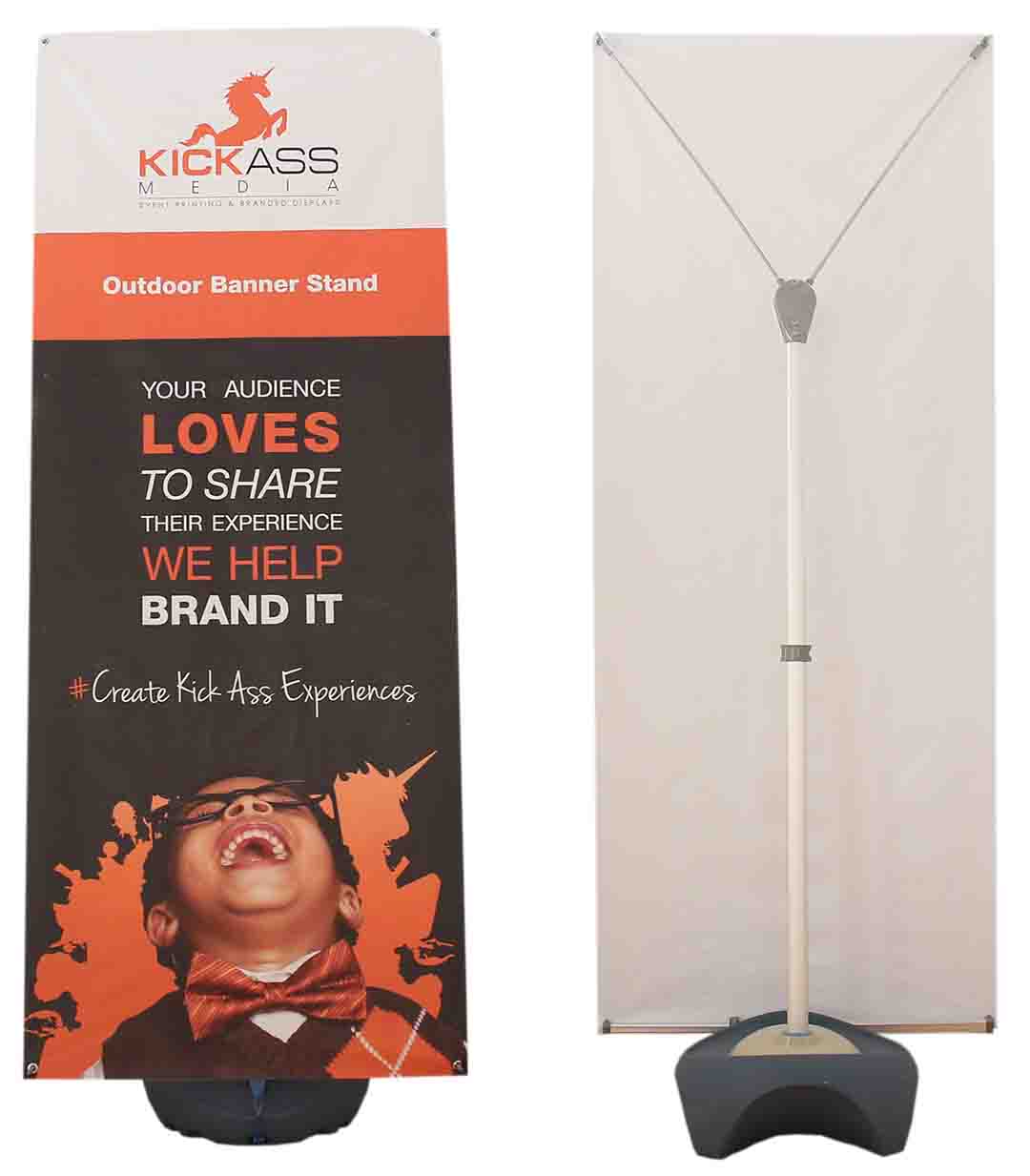 How can we help you with your Outdoor Displays?
We are dedicated to the success of our clients' events. Masters of portable event and marketing displays, we offer simple, easy to use, effective and economical solutions to clients big and small.
Read more…
Monday – Friday 9:00 AM – 5:00 PM
1-877-880-0326