Things to Consider Before You Buy
Questions to Ask of Any Supplier
Step and Repeat Backdrops are the centre of your event. Getting them wrong means being remembered for the wrong reasons. Material, lighting and size are the common places where people go wrong when picking their product. Below are a couple of pointers to make sure your next event backdrop creates the kind of kick ass experience you are envisioning. Bit having a smooth event experience isn't just about picking the right product, you have to pick the right supplier.
We suggest you ask the following of any prospective supplier:
Am I guaranteed to have this on time?
Am I guaranteed the colours will match my branding?
Am I guaranteed the product sold will fit my needs?
Am I guaranteed the backdrop will be glare free?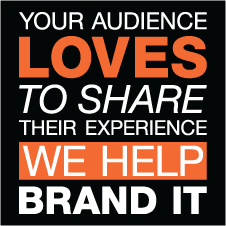 Let's Create an Event They'll Never Forget!
What is your budget?
This is the question that often forces compromise between the ideal solution and the acceptable one. Typically, tight budgets translate into customers choosing smaller backdrops or cheaper materials. While in some cases this is unavoidable, the best way to stretch your budget is to opt for a wall mounted solution or rent the backdrop hardware. Having spent years selling step and repeats, we can assure you that getting the material right is a non-negotiable. Vinyl, unless used in venues with lots of ambient light and with low ink coverage, will show glare from any camera flash or lights. If the aim is to add glamour and positive publicity this will undermine it!
How are you going to mount it?
Your options are either mounted on a frame or mounted on a wall. Your mounting choice should be based on how you want your event or brand(s) to be perceived, economical or upscale and professional. The wall mount is more economical, but typically requires more installation time and expertise. We have a variety of wall mount print options, including direct-apply, glare-free removable graphics and fabric or vinyl prints finished with either pockets or grommets. We offer a variety of professional frame solutions – the most popular of which is the expand backdrop system. Learn more here.
What size do you need?
The size is based on your venue and your audience goals. To help you find the perfect size, your supplier should ask:
How many people will be in the pictures?
How big of a presence do you want with your backdrop?
How much space do you have to set up in?
How high can you safely go, and are there restrictions at your venue?
Answering these questions will help you decide. You don't want to go too small. Our best sellers are 10×8 and 12×8 for smaller events and 15×8 and 20×8 for larger ones.
How do you choose a supplier?
This is getting more difficult with more suppliers appearing online and prices ranging from $100's to $1000's. What's the difference? You get what you pay for. We get calls all the time where people opted for a cheaper soultion and are now stressed at their event with something they're unhappy with. Typical problems are:
Hardware you have to build
Materials that show glare or are wrinkled
The product does not arrive on time
The colours don't quite match
The right supplier works with you; the wrong one is just selling.
Find out what guarantees and warranties are in place before buying.


Do it right the first time.

It will save you!
Call today and let's discuss your event options.
1.877.880.0326