Portable Displays Designed with you in Mind.
Lightweight | Easy to assemble | Cost-Effective | Photo-Friendly Fabrics
Three guarantees you can't buy without.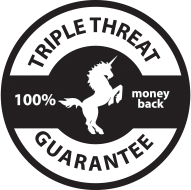 Be Remembered For The Right Reasons
We are so confident that you'll love our products and service that we offer a 100% money back guarantee. Speak to your project coordinator for more details!
Spot colour matched & on the right material for the application.
We know that branding is built on exact colours – Telus green (Pantone 376) is not John Deer green (Pantone 364)! We are committed to ensuring that your branding collateral is spot on – whether spot colour (ie. Pantone) or sample matched to ensure that your colours stay consistent. Better than that, our project coordinators will ensure that you end up with materials that suit the specific lighting, event and application need presented by your event & client. Whether you're looking for a glare-free stretch fabric for a step and repeat or a high adhesive vinyl for a floor graphic – we've got you covered, guaranteed!
Delivered to your door on time, every time.
We know our products are the backbone of your event and can spell disaster if they don't show! That's why we keep you updated at every step – every product is photographed and tracking information is sent to you in advance of shipping. Once we commit to a timeline – whether a regular 48 hour turnaround or a 6 hour rush print & ship – we make it happen. No matter how far we have to drive, no matter how many times we have to reprint – we will either find a way or make a way!
Lifetime hardware warranty.
Every product we sell, for as long as we carry it, is covered by a no-cost replacement warranty. Break a clip or snap a pole? Don't stress – we will replace it at no cost. Send in the broken hardware and we will either fix the part or replace the unit with a refurbished one. Better than that, we will do a full review of the hardware to ensure everything is working as good as new before we send it back to you. Stop the stress- we've got you covered!
Sized to Fit Your Booth
The most common sizes include 5′ , 8′, 10′ and 12′ widths.  Booths come standard with Velcro receptive fabric panels onto which either Lexan tension fabric graphics or eco-fabric prints can be attached with Velcro fasteners. The graphic can either be ordered with full coverage graphic panels (to cover the ends of the frames – sometimes called "endcaps") and are attached to the frame using Velcro. When it comes to trade show booth displays, our attention to detail guarantees that you'll look awesome!
Affordable, Portable and Easy to Assemble
Whether you're looking for a modest display or a more robust presence, our custom solutions are always spot on. Despite offering a range of trade show backdrops, banner stands and counters, all of our products are portable and designed to be assembled  in minutes. We believe that our range of solutions strike the fine balance between looking good and coming across as having no idea what to do with that spare 20k in your budget. The latter, we believe, will stand in the way of customers connecting with your brand and product, and so the trade show displays Toronto and other Canadian marketers receive from KA Media are the perfect solution, no matter the size or type of event.
Custom Printed Graphics
Our trade show displays all come complete with your custom printed graphics, which can be switched out as your brand and products change. With a variety of options in both materials and frames, you can rest assured that your brand and products will be showcased with the best print solutions the industry has to offer.
Often called "Pop-Up" or "Hop-Up" displays, these units are the most widely used solution for trade show displays in Canada – scratch that – in the world! This is, in large part, because of their easy set up (they can be assembled in under 10 minutes) and affordability (under $1000). Our expand frames are  available both in convex, concave and flat configurations. When used in combination, individual units can  make 20 and 30 ft. booths and conference rooms, so for trade show displays, Toronto event marketers and others in Canada can achieve that Kick Ass trade show presence they need, without the fuss or huge expense.
Customer Service
Customer satisfaction is our bottom line. We strive daily to deliver on our promise of honesty, reliability and commitment to your success. We know we're not the biggest name in trade show displays in Vancouver, Montreal or even Toronto, and this drives us to offer a level of service, price and product which is simply unmatched, every day. Try us once and we can assure that you, like so many others in Canada, will become a raving fan.